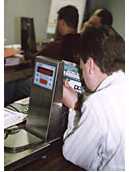 Central Carolina Scale offers electronic weighing scale and balance repair services. Our factory-trained technicians perform basic repairs on electronic equipment and digital weight indicators as well as perform tests and calibration services. We are capable of repairing most brands. Call or email for details...

At Central Carolina Scale we pride ourselves on fast, courteous professional service. Our technicians are up to date on todays electronic scales as well as traditional mechanical models. Our capabilities range from the smallest most precise balances to the large industrial sized tanks and hoppers, and all types and capacities in between .


Call (919) 776-7737 to set up a repair or get a quote today!